Kitchens are one of the most versatile rooms in any home. They can be used for cooking, socializing, and even as an office area. When designing a kitchen, it is important to consider your family's needs and wants.
Many different styles work well with modern homes such as open-concept designs, or small kitchens that don't compromise on space. Kitchen design trends are constantly changing and sometimes it's hard to keep track of what is in style. Luckily for you, we've put together a list of the latest kitchen designs that will make your home stand out from the rest.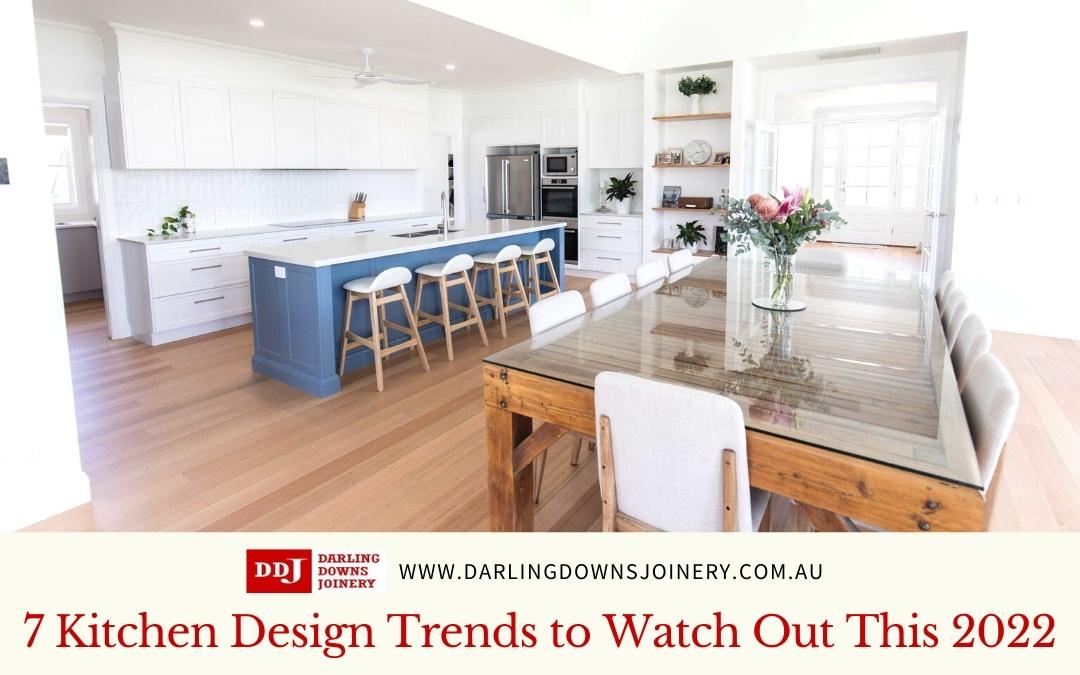 1. We're seeing a shift from modern to a more traditional kitchen
Australians are seeing a shift in the way they design their homes. This is great news for homeowners who want to make better use of space and enjoy an all-inclusive home experience without having to spend more money on renovations!
Australians used to be stuck with traditional kitchen designs, but times have changed. Nowadays they are happy updating to a more traditional kitchen open space design.
2. The new trend is for kitchens to have built-in appliances, such as refrigerators and ovens
If you're tired of the same old kitchen, it may be time to consider a new trend in home design. It's called "integrated." This is when all the appliances are built into cabinetry and countertops, so they don't take up any room on the floor or walls of your kitchen.
The newest kitchens have ovens that can cook while you're doing other things in your kitchen, like preparing food or washing dishes. Since everything is contained within cabinets and counters, these kitchens offer more space for storage.
3. Kitchens are becoming more multifunctional
We all know that our lives are getting busier and busier, so having a space to do more than cook is becoming more important. That's why the new kitchen trend is becoming more multifunctional. For example:
A movable island or peninsula can be used as extra countertop space for prep work or food preparation, while also giving you additional seating options.
Putting electrical outlets near where people usually stand at counters will make it easier to plug things.
So if you're looking for the latest trends in kitchen design, you might want to consider a multifunctional space. Kitchen designers are now designing kitchens with spaces for cooking, dining, and gathering, all under one roof.
4. We're also seeing an increase in natural materials like wood or stone
Kitchens are the heart of every home, and now they're becoming more popular than ever with homeowners. The new kitchen trend is using 2pac and stone which makes the kitchen homier and less confined.
No matter what you choose for materials, this will increase the value of your home if you plan on selling it.  If you would like to learn more about the new kitchen trends and apply them to your kitchen, talk to Darling Downs Joinery today.
5. Gone are the days of stark white walls; today's kitchens feature colourful accents to add life to the space
Your kitchen is often the busiest room in your home. It's where you prepare meals, chat with friends and family, entertain guests, and do pretty much everything else. So it makes sense that you want to make it feel inviting.
The current kitchen design trends can make up for this by adding colourful accents. This can be as simple as painting a wall or splash back in a new hue, while also incorporating some pops of colour into basic white items like dishes or appliances.
6. Instead of cabinets lining every wall, we're now seeing "open shelving"
Homeowners are starting to see that cabinets lining every wall aren't the way to go in the kitchen anymore. Appliances are getting sleeker and slimmer so there's more room for storage. Now, "open shelving" is becoming more and more popular for their kitchens as it gives a sense of openness, while still providing storage.
It's not only a space-saver but it looks great too. Storing pots and pans on open shelving units instead of cabinets can save up to 30% of your storage space. Plus, they're easier to see what you have when you need it.
7. A new style of countertop called "porcelain stone" is being introduced
The newest kitchen trend is using porcelain stone as a countertop. This material has been around since the beginning of time, but it's recently being used in kitchens. It looks great with any style of home, making it easy for homeowners to make an upgrade.
This porcelain material looks just like real stone. It is said that it can resist scratches and stains better than marble or granite. This means its low maintenance, so homeowners can save time not worrying about staining, chipping, or scratching this surface.
Since it comes in a variety of colours and styles, homeowners will have no problem finding one that suits their home perfectly.
8. Dark woods are replacing white cabinetry because they're easier to clean
The dark woods cabinetry is making a comeback. No longer considered an outdated, unskilled design aesthetic. They're now being chosen over the traditional white cabinets; because they're easier to maintain and clean up after even the messiest of meals.
Cabinets made of wood can be easily painted with 2pac polyurethane, which means that if food spills on them, you simply wipe it off with soap and water.
Truth is, according to one study by research firm Mintel, 27% of households in Australia have switched from light-coloured cabinets to darker ones, with oak or walnut finishes for this very reason.
Expert's opinion
With the demise of white kitchens, homeowners are looking for new ways to design their kitchens. The newest trend is combining storage with natural materials like dark woods and stone countertops to create a multifunctional space, that can be both functional and beautiful. For those of you with small kitchens, the new kitchen design trends are here to save the day.
If you're interested in learning more about these trends or want help creating your dream kitchen, contact us. We'll provide you with all the latest insights on what's coming next, so you know exactly how to get ahead of the curve before it even happens.