Did our latest article spark your curiosity about the latest kitchen trends and styles for 2022? If so, you're in luck because we're here to share more with you.
Enjoy and be inspired.
Black Kitchens
Almost any colour can look good in a kitchen, but black kitchens are having a moment. Why? Black is versatile and timeless. Whether your style is modern, rustic or traditional, a black kitchen can work with it.
Plus, black appliances and hardware are becoming more popular, so a black kitchen is a perfect way to jump on this trend. Plus, black appliances and cabinetry are on-trend right now.
White Kitchens
When you think of a white kitchen, what comes to mind? For many people, a white kitchen conjures up images of elegance and sophistication. And it's no wonder, a white kitchen can be both beautiful and functional. Here are some of the reasons why this style is so popular:
They look clean and modern.
They match any type of decor.
They're easy to keep clean.
They never go out of style.
They make any room feel brighter and more spacious.
You can add a pop of colour with accessories or appliances.
There are endless possibilities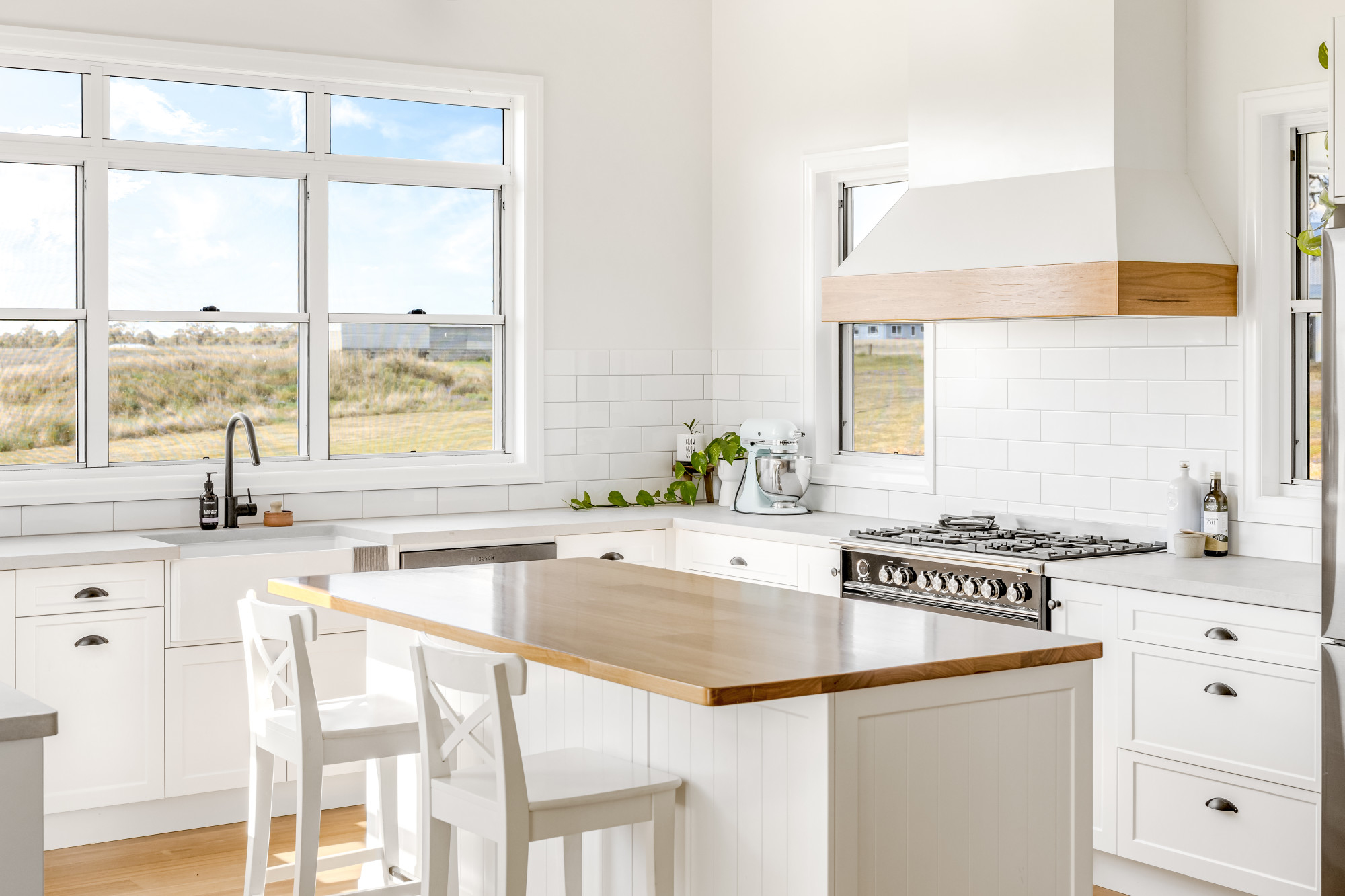 Additionally, white can make any room look timeless and classic. They never seem to go out of style and they always look clean and fresh.
Handleless Kitchens
If you're like most people, you probably think of kitchens as being cluttered and chaotic spaces. But what if your kitchen could be clean and organized without any clutter? With a handleless kitchen design, you can have the best of both worlds.
This type of kitchen has become increasingly popular in recent years due to its modern look and practicality. It is also visually appealing resulting to a magnificent looking kitchen.
Coastal Style Kitchens
Do you love the salty smell of the ocean in the air? The sound of waves on the shore? If you do, then you'll want to consider adding a coastal style kitchen to your home.
Coastal style kitchens embody everything wonderful about being near the coast – they're light, airy, and perfect for enjoying fresh seafood dishes. Whether your home is on the coast or not, you can enjoy the fresh look of coastal style kitchens. Here are some inspiring ideas for you:
Choose light, airy colours for a beachy feel. Seaside inspired kitchens often use soft blue greens and whites to create a calm, peaceful atmosphere. You can also add touches of driftwood grey or sandalwood tan to achieve this effect.
Embrace natural materials like stone and wood. Natural materials are key in achieving a rustic coastal vibe in this style.
With this kitchen style, you can mix the sand, sun, and sea vibe which will make you feel like you're on a vacation house. Make sure not to forget to install coastal kitchen cabinets that have either sleek or laminated hardwood floors.
Colonial Style Kitchens
If there's one style of kitchen that never goes out of fashion, it's colonial. This timeless look features classic wood cabinetry, a farmhouse sink, and plenty of storage space. A lot of people find this kitchen design's classic styling and relaxed atmosphere appealing.
Whether your home is centuries old or just feels like it, a colonial-style kitchen can add some serious character. In this style, you can see the stone floors, bubbling cauldrons, and natural colour palettes compromising.
Although it can be tricky to create a true colonial look in your own home, it's definitely worth the effort. Want to get this kitchen style? Our kitchen specialists can help you. Talk to us.
Industrial Style Kitchens
Have you ever seen an industrial kitchen and been amazed by the style? Not yet? Then you might be surprised by this style's beauty. Industrial kitchens are becoming more and more popular, thanks to their unique and stylish look.
One popular option for adding industrial style to your kitchen is by using metal kitchen cabinets. These can be quite expensive, but they offer a lot of character and durability. If you're on a budget, consider using metal accents instead. For example, you could add a metal backsplash or countertop.
Another popular option is concrete countertops. Concrete is durable and can be stained or sealed in any colour imaginable. It's also relatively affordable compared to other countertop materials. So, if you want to make your kitchen look robust, this is the design for you.
Outdoor Kitchens
Whether you're a Grill Master or just starting, an outdoor kitchen is a perfect way to take your grilling to the next level. Outdoor kitchens can be as simple or complex as you want them to be, and they make entertaining guests a breeze. You can incorporate various appliances like side burners, smokers, and wine coolers.
Additionally, you can reflect your lifestyle with an outdoor kitchen, which can mean that the design possibilities are limitless.
Talk With Our Kitchen Experts
Did any of these popular kitchen trends and styles for 2022 fit your liking? Do you feel like renovating your kitchen into it? Tell us all about it and let our kitchen experts at Darling Downs Joinery bring your kitchen ideas to life.
For further information about the service we provide, you may call us at (07) 4633 1109.
Or you can email us your enquiries. We'd love to hear from you.