Kitchen design is always evolving, and the latest trends for 2022 are sure to excite homeowners in Darling Downs. From minimalist looks to farmhouse-inspired styles, these trends will help you create a kitchen that's both stylish and functional. Some are even continuations of current trends. So if you're thinking about renovating your kitchen soon, be sure to check out these popular trends.
Modern Kitchens
Imagine a kitchen that has no cabinets, but a sleek white countertop with stainless steel appliances hidden behind it.
This what the modern style of kitchenis has to offer and it is expected to completely change the way we think about kitchen! Experts say they'll be different than what's currently out there because everything will either be hidden or operated through walls.
Contemporary Kitchen Design
What's your passion? Do you love bold, vibrant colours that are full of life and energy or do you prefer the more modest tones? Or are you into experimenting on different kitchen styles such as blending induction cooktops, soft cupboards and drawers, smart storage and even integrating the latest appliances in the market?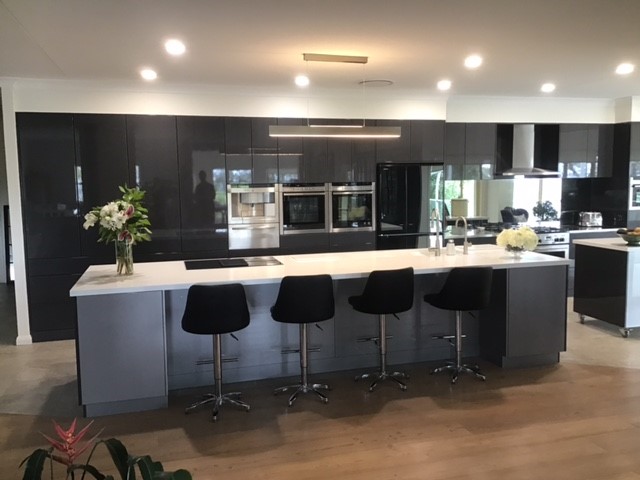 Contemporary kitchen design is all about comfort, functionality, and space. This makes it best for people with a busy lifestyle.
So if your looking for both functionality and style then contemporary kitchen design might just be the perfect fit for you.
Country Kitchens
The country style kitchen design for is a mix of French provincial, Hamptons, and modern-country styles. It usually shows off the modern country through the following:
Decorated wire
Open shelves
Warm timber flooring
Soft and neutral palettes
Ceramic handles
Profile doors and panels
Large overhanging ceramic sink
Accent shades like cool greens, subtle grey, and exquisite blue
Before, this kitchen style was known for having large layouts; but now, it has become more compact. So whatever Images come to your mind, one thing is for sure: country kitchens are incredibly charming and inviting.
Classic Kitchens
What's old is new again! Classic kitchens are making a comeback in a big way. 2022 is going to be the year of the classic kitchen. From timeless design to top-of-the-line functionality, a classic kitchen has something for everyone.
With open floor plans, stone benchtops, beautiful finishes and lots of natural light, these kitchens will be stylish for years to come. So whether you're updating your current kitchen or starting from scratch, consider this one.
French Provincial Kitchens
If you're like most people, you probably imagine French provincial kitchens as being incredibly ornate and intricate. While this may be true in some cases, there is no one-size-fits-all definition of a French provincial kitchen.
The look can vary quite a bit depending on your taste and the style of your home. Usually, the materials used in this kitchen style are traditional that may include the following:
Wood or stone flooring
Oversized rangehood
Ceramic tiles
Large ovens
Wood cabinets
But, don't hold back just because of the word traditional. You can still include modern technology in it such as innovative storage solutions. That being said, rest assured that you can enjoy the rustic magnetising look of this style along with the latest innovations.
Hamptons Kitchens
The Hamptons is known for its luxurious lifestyle, and that extends to the kitchen. If you're looking for a space that's as beautiful as it is functional, a Hamptons kitchen might be just what you need.
With plenty of natural light and high-end finishes, these kitchens are perfect for anyone who loves to cook or entertain. Below are some of the few main components of this kitchen style.
White is the main colour but can be paired with pale neutral colours.
Plain white cabinetry
Spacious with lots of light
Large pendant light
Islands can also be seen in this style for additional space, storage, and informal seating. Additionally, the beachy vibe of this kitchen is the perfect way to relax after a long day.
Shaker Style Kitchens
Shaker style kitchens are a popular choice for homeowners because of their timeless look and simplicity. This type of kitchen is characterized by cabinets with simple, straight lines and minimal ornamentation. While shaker style kitchens have been around for centuries, they remain popular today because of their classic appeal and versatility.
Wait, There's more…
Have we sparked your inner desire to renovate your kitchen? Did you get inspired by these kitchen style trends for this year? Yes?
That's great but hold up, we still got more for you. We'll bring you more inspirations and trends you can use to enhance your kitchen style in Part 2 of this 2 part blog series.