The Hamptons is an area located in the Long Islands in New York City. Although it's oceans are away from Queensland, we encounter the word Hampton quite often.
Do you ever wonder why?
This is because Hampton is a popular interior design in Australia that is highly-inspired by the actual place.
About the Hampton Style
The word Hampton radiates sophistication and elegance. This is because the Hamptons is known to be a vacation spot for celebrities in America. This will give you some idea of how luxurious the houses in Hampton look.
More than just the luxurious appeal, the Hampton style also gives off a very relaxing vibe. The place is a vacation destination after all. Being close to the sea, houses in the area are in a white, green and grey or navy blue scheme combined with a rustic theme. Australian homeowners love this refreshing theme that goes with a Hampton interior.
In this blog, we will share with you some tips on how to fit the sophisticated look of a Hampton style interior into your bathroom.
Pick the right colour scheme
The colour scheme is important when designing a Hampton style bathroom. Hampton-inspired interiors often share a standard colour scheme. The common Hampton colour schemes for interiors are as follows:
off white
navy blue
grey
crisp white
green
In picking your colour scheme, we suggest that you choose a single colour for the walls. This way, you can add other colours for your bathroom essentials and decors more freely. Although white is the typical base colour of a Hampton style interior, you can still experiment with other colours. For instance, you can use navy blue or green as a base colour and choose a white bathtub and white vanity to go with it.
If you're having doubts about the right base colour, you can always consult an expert interior designer to help you. Let's talk.
Invest in a Hampton Vanity
One of the trademarks of a Hampton style bathroom is the distinct type of its vanity. Hampton vanity is typically a wooden cabinet in white colour with a stone benchtop. However, these vanities come in more colours, today. This can include your choice of colour.
Match the appropriate tiles
Tiles are essential elements in a Hampton style bathroom. So, if you want the tiles to be fit perfectly with your wall colours, you have to stick with your chosen colour scheme.
You can pick grey subway tiles to complement your white walls. In the same way, you can also choose blue and white Victorian tiles for the splashback. Applying this colour contrast works with walls and tiles, but it's always wise to consult the experts regarding this.
Utilize Natural Lights
Another feature of a Hampton bathroom is its relaxing and cozy beach rest house vibe. Thus, natural lights for your bathroom will make an impact. Consider adding a skylight or large glass windows to permit the sunlight during the day.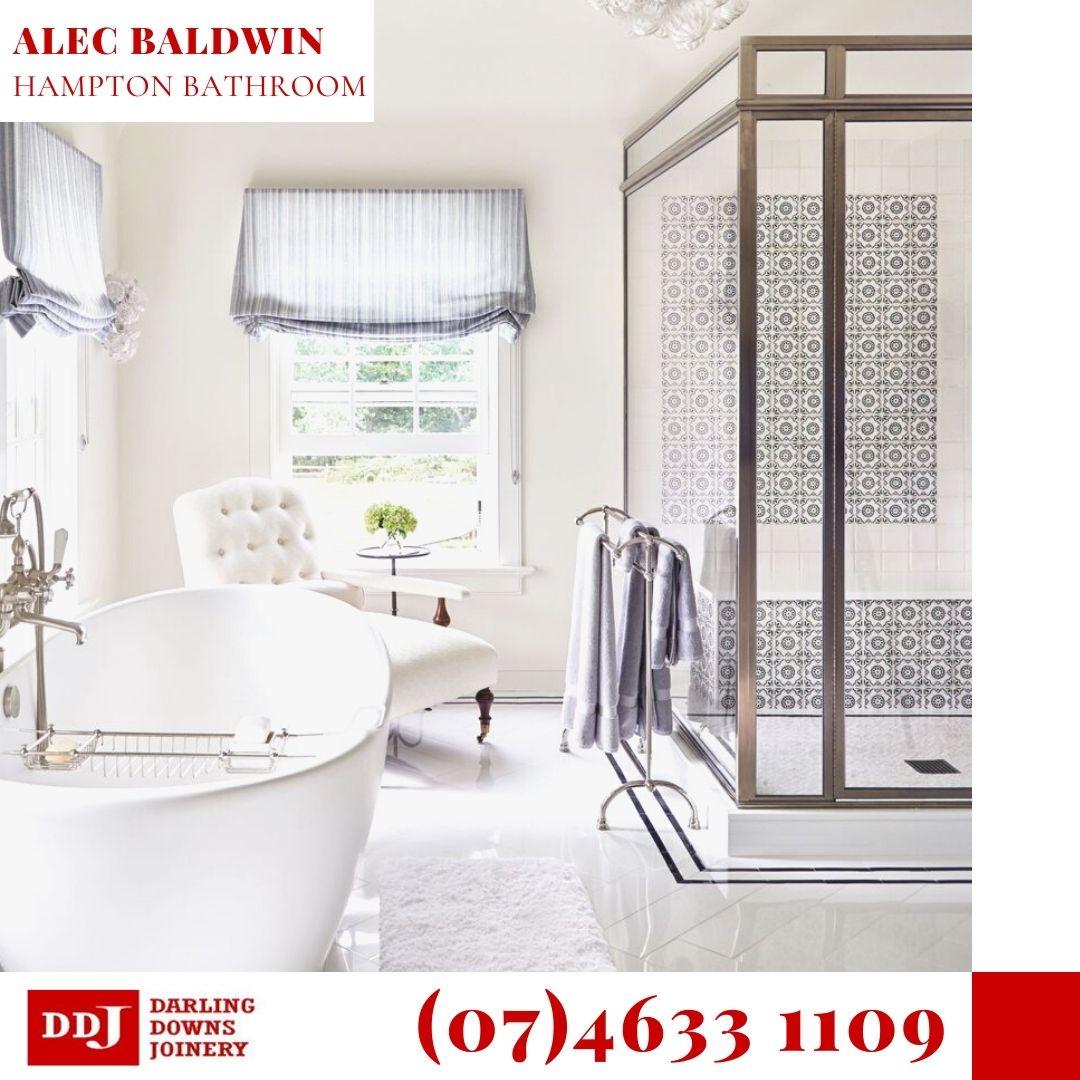 CONCLUSION
Hampton style interior is well-liked in Queensland due to its elegance combined with a refreshing atmosphere. If you want to renovate your bathroom using this style, we can provide you with some information based on your requirements. Darling Downs Joinery is a local cabinet maker in Queensland that specializes in Hampton interior design. Talk to us today and let us make your Hampton bathroom a reality.